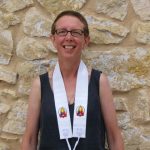 Munisha is a member of the Triratna Buddhist Order (previously the WBO). Ordained in 2003, she is Triratna's Liaison and Communications Officer: "Liaison" refers to relations with other Buddhist traditions in the UK and Europe, and "Communications" covers relations with the press and media, and within the Triratna Buddhist Community itself.
She is also Director of the Manchester-based Buddhist video project The Clear Vision Trust. Clear Vision produces video for Triratna but is best known in UK schools for a range of video packs for Buddhism in Religious Education.
Munisha lives in a residential Buddhist community in north Manchester with six Buddhist friends and Oscar the cat.