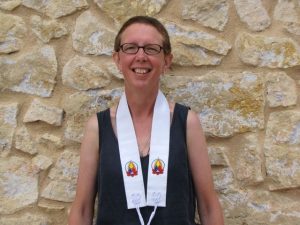 Munisha is a member of the Triratna Buddhist Order, ordained in 2003. She is Triratna's European Safeguarding Officer, responsible for developing policy and training in the protection of children and "vulnerable adults" at Triratna centres since 2013.
She also ensures Triratna's co-operation with other Buddhist traditions in the UK and Europe through the NBO and represents Triratna at the European Buddhist Union. In both these bodies her concern is to help Buddhists of all kinds to work together for the good of Buddhism in general, and for the good of society.
From 1997 to 2015 she worked for the Manchester-based Buddhist video project The Clear Vision Trust. Clear Vision produces video for Triratna but is best known in UK schools for a range of DVD and online video for Buddhism in Religious Education, as well as free online Buddhist video for young people.