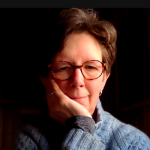 Munisha is a member of the Triratna Buddhist Order (previously the WBO). Ordained in 2003, she is Triratna's Liaison Officer: "Liaison" refers to relations with other Buddhist traditions in the UK and Europe.
She is also Safeguarding officer to Triratna's European Chairs' Assembly, advising Triratna centres and retreat centres on policies and procedures for Safeguarding children and adults from harm in the context of Buddhist activities.
She volunteers as Safeguarding officer to the NBO.