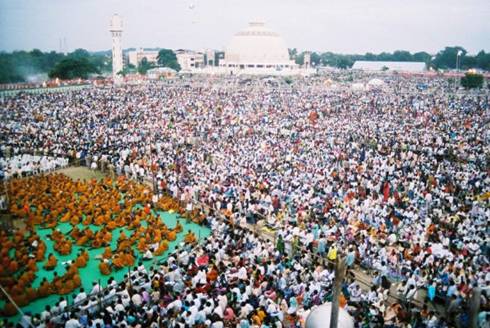 Tomorrow – April 14th – sees the 122nd anniversary of the birth of Dr. Ambedkar, inspiration to many millions of India's 'Dalits' and  leader of their mass conversion to Buddhism in 1956.  As our way of celebrating this important date in Triratna's calendar, we're delighted to offer you this link to 'Ambedkar', the 2000 movie by Jabbar Patel.  It's the story of his life, struggles, and ultimate conversion to Buddhism – and winner of three India National Awards (Best Actor, Best Art Direction, and Best English language film).
Movie download site Zinemaya describes it thus – "this is one of the finest historical films made in Independent India. This movie takes place between the years 1901 to 1956, a period of great social upheavals and revolutionary movements around the world. In India during this time, there were two struggles being fought simultaneously; the first, which is well known throughout the world, was India's fight for independence spearheaded by Mahatma Gandhi, against the British colonial powers. The second struggle, much less well known but no less important was an internal struggle. Seventy million Indian untouchables, led by Dr. Ambedkar were fighting for their rights against upper caste Hindu society. This film holds its significance due to the fact that, though the ethos contained is Indian, it has its equation in the political and social disparity all over the world. The basic aim of the social revolution is to uphold the meaning of humanity in its truest sense".
You'll find it here:  www.youtube.com/watch?v=yv6aU-_9xQ0
The photograph shows crowds at the 'Diksha-Bhumi' (Ground of Conversion) in India on the 50th anniversary of the mass conversions.